OOTD: Spring Style Essentials
Ok ok ok, I know I don't do outfit posts often and that's only because 1. I'm a slut for makeup, first and foremost, and 2. It's really hard to look cute in negative 20 degree weather. (When I grow up, I wanna be a snowbird haha) Winter in Calgary is basically having a cute outfit on and then ruining it with a parka.
Come to think of it, the last outfit post I made was All-White Lookbook :/ Yikes!
But now that spring has officially sprung, I can (finally) share my spring style essentials with you! It also means that I have to shave my legs now, sigh.
My Spring Style Essentials!

Today, I'm wearing this baby blue x white vertically striped blouse. My favourite detail is its "cold shoulder" slash off-shoulder feature. This cut can make anyone of any body type look flirty and feminine. It's a spring style essential for sure and I would cop it in every colour and pattern. I'm really short, so the vertical stripes help to elongate my figure, but not in the sense that it makes my torso seem out of proportion with the rest of my body. This blouse is so flowy, it'll cover up any food babies I have (lol!)
I paired this flirty blouse with none other but a white denim A-line skirt complete with lace detail. As usual, my accessories are simple, understated, and most importantly, gold to complement my warm complexion ✨
And no outfit is complete without an adorable phone case! iDeal of Sweden sent me this Sailor Blue Bloom case and I'm totally in love with it. Now I know what you're thinking: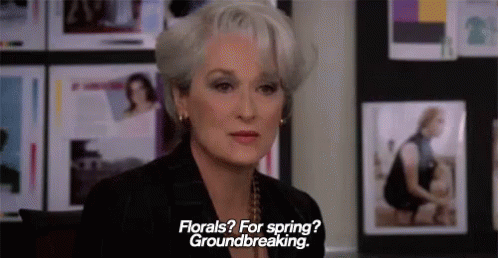 But hear me out! First of all, when you live in a place like Calgary, you don't really even know when winter is supposed to end and spring is supposed to begin. It consistently plays with my emotions and I'm over it. So in the very rare occasion I do experience warmer weather, I bust out the florals and pastels like I haven't spent a day in the sun in months (because I haven't, lol). In addition, the case design features a dark floral print, which is right up my alley since no matter what season, I tend to wear jet blacks and navy blues. I find dark florals to be a tad bit more versatile, especially when fall and winter come around. You can still rock this case with your sweater weather outfits.
Friendly reminder that you can use my discount code "LULUMEETSIOS" to get 20% off everything at iDeal of Sweden.ca! Click the image above to get your own Sailor Blue Bloom case x
That's it! For more fashion or makeup or travel stuff, you can follow me on Instagram, Twitter, Facebook, and my semi-neglected YouTube channel (now that I'm done school I'll be uploading more, yay!). I'm funny on Snapchat sometimes, too. 😉
Bye for now!
Sailor Blue Bloom case courtesy of iDeal of Sweden. Read my disclosure policy here.